ACTIVE WEAR AND RUNNING CLOTHING
At Fox-pace we value high quality, breathable, quick-drying, and light-weight materials, which are all essential features in sports apparel. Our active wear designs are functional, form fitting, comfortable and versatile. Since we spend so much time outdoors, we care about the environment. To be proactive about sustainability, we make sure at least fifty percent of each design is made from fabrics that include recycled PET bottles.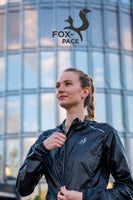 Doing what we love brings out the best in us, as does feeling strong.
 Dressing up and preparing for any activity is a meaningful experience that makes us feel good.
We don't necessarily have to always be tough, but whatever we do - we stay active!